Hello everyone! We have the last two days to give you the right design, fashion and art directions, so you'll have the idea where to stop and shop when visiting Prague. In the previous five days, we have generally covered the women's, men's, playful and quirky sides of the town as we love it, and although most of all these places - shops and showrooms are all about the local products, local designers and the so much needed support to all of them who stands behind, we was thinking: What if you care even more? What if you don't want just to support the local production, local designers, but you also want to be sure, that you choose a products, that have been made ecologically, ethically, even from bio materials? Well, we have some options for you.
Day 6: Prague's ecological, ethical, bio and fair shopping guide
Natalie Steklova Shop and cafe
Natalie is one of the few designers who really take care of all the ethical and ecological aspects of her work and life as well. Her Shop and cafe is slightly hidden, but in fact there are not much more central locations in Prague than the blue "music" house she is having her charming place in. You will find her in the highest floor of the functionalism blue house, that is full of musical instruments. This house is standing just behind the big Bata store in Wenceslas square - or said in a better way, it is the very end part of Narodni trida. It will seem to you, like you are going completely wrong way, but trust us, when you reach the highest floor and open the door, you will be in a different world.
Here, you can spend a really long time enjoying a delicious home baked cakes from Natalka's mother, drink all kinds of hot drinks, local lemonades or have a glass of good wine and slowly shop the bio cosmetics from Dr. Huschka, Bio Bachovky therapeutical perfumes and oils as well as Natalie's own fashion brand along with world's known accessories and shoes, which all of them are entirely bio, organic, vegan and ethically made.
Natalie Stekova's shop and caffe is located on the Jungmannovo namesti 754/17, Prague 1
Czech labels and friends
This small shop is offering a selection of various Czech and Slovak fashion designers as well as a nice choice of other products from brands, that respect human and animal rights in their production. Not everything in this store is bio or organic, but most of the things were made ethically, locally and with love.
Czech labels and friends is located on Zelezna 12, Prague 1 and you can find here shoes by the Melissa brand.
Nila
Nila is a brand new concept store located in the Vinohrady area. The owners of this nice shop has decided to concentrate on the ethical, ethnical and organic products, mostly from the underdeveloped countries. Therefore you can find here many brands that are giving a regular work to many local (mostly African) artisans. Brands, that are investing into the work skills education of those who need it. The product range runs from household accessories through jewelry to clothes and shoes and we are sure that everyone can find here something precious for themselves.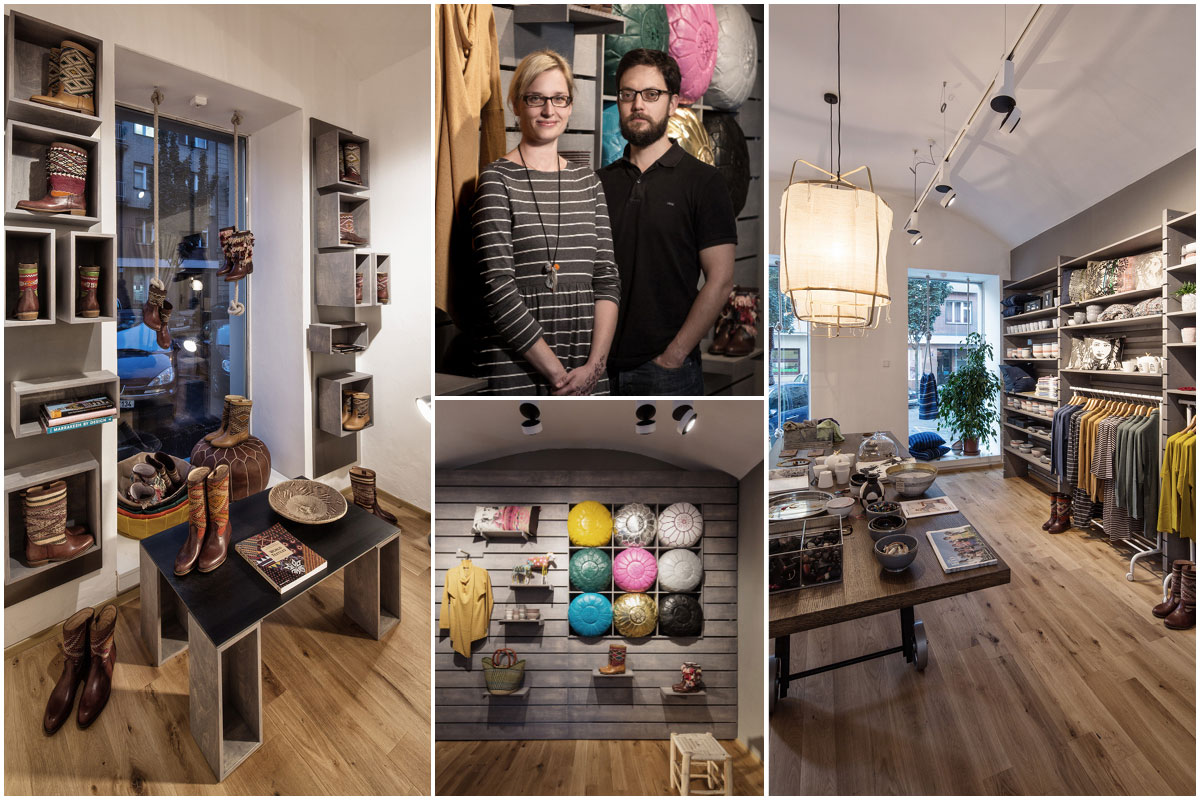 Nila is located on Korunni 91 (entrance from Ripska).
Kurator
In Kurator, we always care about the origin and concept of the products that we sell. Therefore you cannot find a piece, that would be made in a manner that is not respectful to the human rights, we always know who, why, where and what, no matter what kind of product we talk about. We think, that everyone should be paid and treated fairly, no matter what position in the product creating process is he / she maintaining. We believe, that the "slow fashion" is the right way to keep our lives, the planet's environment and our future livable and good. From the spring 2015, Kurator will have a whole line of clothes and shoes, that are certified as bio and vegan. By now, we can assure you, that most of our products come from local sources and were made ethically and with love.
Kurator is located on Karoliny Svetle 17, Prague 1
7 Dub
The brand 7 Dub is one of the very few Czech fashion brands, that is devoted to the bio materials. Zuzana Sedmidubska, the designer behind the brand is giving the emphasis on the perfect materials and a very cozy cuts. If you want something comfy but with a designer twist, 7 Dub is just for you. The collections are only for women and you can find them in the Sistersconspiracy showroom on Letna ( we've mentioned them in our men's shopping guide).
7 dub is located in the Sistersconspiray showroom, Dobrovskeho 24, Prague 7.
Kdotokdyslysel
This tip is probably addressed more for the local followers of Taste of Prague, but we didn't want to skip it. "Kdotokdyslysel" is a special "shop in shop" located in a tiny place called "Atelier Veverkova 10", that is shared by two sympathetic ladies.This place combines a shop of organic and bio fabrics with a workshop and graphic printery. You can find here many prints, embroidered bags and cushions and the most important thing: a nice selection of a very colorful bio and organic fabrics mostly from abroad.
Kdotokdyslysel is located on Veverkova 10, Prague 7. ( "Atelier Veverkova 10" )
[Posted by Martina, Terezka and Honza of Kurator, one of the best shopping addresses in Prague]